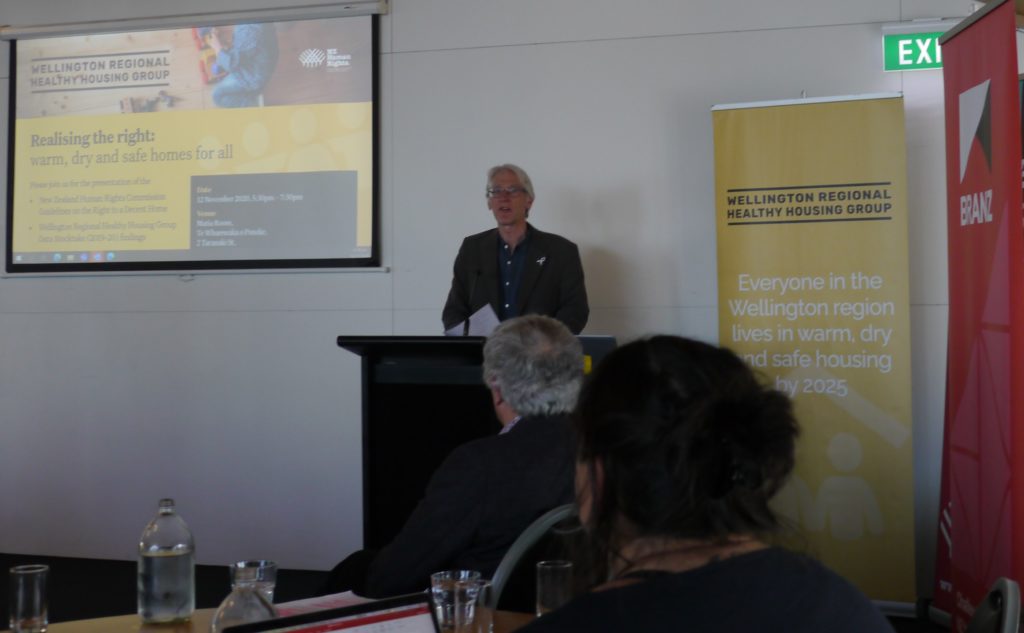 On 12 November 2020, the Wellington Regional Healthy Housing Group, in a joint event with the New Zealand Human Rights Council of New Zealand, launched the report of the 2019-20 Housing Data Stocktake. In the combined event, Chief Human Rights Commissioner Paul Hunt presented on the draft consultation Guidelines on the Right to a Decent Home, which were officially launched the following day.
The WRHHG Housing Data Stocktake was funded via BRANZ through the Building Levy. Dr. Rebecca Kiddle, who carried out the research together with Steven Davey presented. Key findings of the Data Stocktake included:
Lots of data on quantity
Fewer datasets on quality
Privately owned data of relevance (e.g. Projected sale prices not always transparent in underlying assumptions for their calculations)
Very little analysis available with a specific focus on groups that exhibit particular housing vulnerabilities, including:

People with disabilities etc.

Little data available on the capacity of the construction sector to deliver numbers and quality of housing needed
No systematic approach to collection of housing data in Aotearoa that allows links to be made between datasets (though some great stuff happening, and starting to happen at central and regional government level and the research sector)
An Infographic of Key Findings as well as the Full Report for the Housing Data Stocktake can be downloaded here.
Phase II for WRHHG Housing Stocktake research is a project to map and synthesise available information to answer targeted questions around housing supply and quality across the Wellington region. More on the Phase II research plan can be found here.